Healthy House Doctors is a company that guides you and your family on your journey toward health in a holistic way. We don't just look at one aspect of your life and health, we seek to treat the whole person in their whole environment!  
With over two decades of medical, public health, and science education, training, research, experience, credentials, and more from two accredited medical schools and two schools of public health, with publications relating to EMF, chemicals (and soon mold), and education in fields such as Medicine (conventional and naturopathic), Public Health, Epidemiology, Toxicology, Industrial Hygiene, Occupational Safety and Health, Risk Management, Food, Cancer, Psychology, Anthropology, Permaculture, Building Biology, and more, Brian and his team have the wisdom and expertise to help you, your family, and your business.
Healthy House Doctors works with medical professionals all over the country (and internationally) assisting patients in their homes by mitigating various hazards, toxins, risks, etc., so they can continue their journey back to health and wellness. We also work on the homes and commercial businesses of your doctors and dentists. Being very holistic, we know the language and can work with and speak to your doctor on your behalf if you desire. We can also refer you to excellent health and medical professionals throughout the country and we know some of the best who regularly reverse complex diseases utilizing a comprehensive and holistic approach in addition to our work in the home. The doctors we work with are likely very different from anything you've heard about or researched (the wisdom is usually never with the masses!).  
I also have personal experience with mold, chemical, and electromagnetic radiation injuries and know quite well about their effects on various organs and systems in the body and how tough they can be to treat. While a part of this is medical, a large part is very preventive in nature.  Both require an extremely holistic approach and interdisciplinary background.  
Healthy House Doctors can help in the following ways and more for your home, business, community centers, or government agency.
Healthy Building & Property Design

 

(new construction, remodel, site selection, etc.)
Building materials: research and specification (new construction or remodel)
Electromagnetic Radiation

 

(EMR/EMF, RF, ): assessments and mitigation strategies (for "Dirty Electricity", "Smart Meters", Powerlines, "Ground Current", Cellular Towers, etc.
Mold and moisture
IAQ-Indoor Air Quality

 

assessment & mitigation (VOCs, particulate matter, Carbon Dioxide, Carbon Monoxide, other gases, etc.)
Water:

 

assessment & mitigation
Real Estate: Pre-purchase/rental/lease assessments
Sleep Sanctuary

 

design
Healthy Nurseries

 

Infection Prevention
Building materials

 

specification and research (new construction or remodel)
Auto Evaluations
Infection Prevention
Litigation Support
Medical / Health Practitioner space evaluation:

 

Medical and Epidemiologic Research
Phone Consultation

 

to help you assess your own home if cost and travel is an issue
I will travel to you!
Brian also has credentials from the following organizations: National Environmental Health Association, International Institute for Building Biology & Ecology, International Permaculture Institute, ServSafe, and has education from the Indiana University School of Medicine, Southwest College of Naturopathic Medicine, Fairbanks School of Public Health, and the Indiana University School of Public Health.  Brian has spoken at several scientific, medical, and/or public health venues and conferences nationally and internationally, as well as is academically published in related fields, preferring to do applied research (bringing the best from academic science into the professional field as well as the best from the professional field into academic science).
Additionally, Brian is very versed in working with vulnerable, sensitive, and injured populations with a compassionate approach. Brian also is actively involved in his community and speaks to various neighborhood and home owners' associations, community institutions, and local businesses. Brian is also a member of the: Bioelectromagnetics Society, International Institute for Building Biology and Ecology, National Environmental Health Association, National Association of Environmental Medicine, Naturopathic Medical Institute, Naturopathic Medical Student Association, Arizona Naturopathic Medical Association, the American Association of Naturopathic Physicians, Oncology Association of Naturopathic Physicians, and more.
Brian and Healthy House Doctors uses top of the line, professional equipment for all of our work with you and your family. We are not simply who you call when you want to test for EMF or mold, etc., we're who you call when you want your home or business healthy again. It's a journey and we're here to help you. Please call or email us to learn more about how Healthy House Doctors can help you create your own healthy home (or building). You and your family's health are worth it!
Please visit our site if you wish to view selected credentials, education, and training.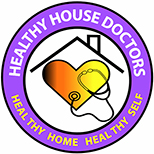 Brian Bunn, BBEC
Healthy House Doctors
Ahwautuke, Arizona
(480) 648-8455
HealthyHouseDoctors@gmail.com
www.healthyhousedoctors.com